Please Use Links Below for our Legislative Updates for
The Capitol Express, 2020

The Capitol Express - Week Five
The Capitol Express - Week Four
The Capitol Express - Week Three
The Capitol Express - Special Budget Issue
The Capitol Express - Week Two/Budget Week
To received The Capitol Express by email directly, text MARTIN4GA to 22828 and follow the instructions or add your address in the column on the right of this page.
House committees continue to meet to review legislation and the meeting can be viewed by clicking here: http://www.house.ga.gov/mediaServices/en-US/VideoBroadcasts.aspx
Thank you for the opportunity to serve House District 49 and the entire State of Georgia.
Yours for Georgia,
I'd Be Honored to Have Your Support and Vote!
Link to "Vote For Papa Chuck" Clip Posted Due to Popular Demand
Putting Georgians First
The hardworking men and women of Georgia expect their government to live within its means. As your representative and voice at the Capitol, I am making sure we are balancing our budgets, removing wasteful spending, and looking for ways to make our government work more efficiently.
I am proud of what our state has done and I know we can do more to make Georgia the best place to live, work, and play.
Early Voting Starts today, October 15th, click here for information and locations...
Fulton Property Tax Assessments – Urgent Information Click here...
Thank you for allowing me to represent you and for your vote on May 22nd; I look forward to continuing to work for you and ask for your support again on November 6th.
News
Tuesday, October 8, 2019 4:05 PM
Great time at Alpharetta Elementary School this morning with pre-K classes reading "llama llama red pajama".
Got to display my "Papa Chuck" Superpower -- I can read upside down so my pre-K friends get to see the pictures at the same time I'm reading the book.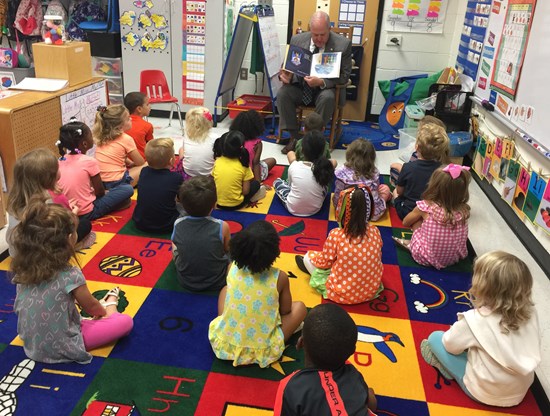 They are really awesome students, knew the words, had great questions and are excited about dressing up as their favorite characters for Halloween.
Thanks Ms. Kane for inviting me and thanks to everyone at Alpharetta Elementary for all you do for our students at all levels!
---
Monday, July 1, 2019 8:51 AM
2019 Property Assessment Notice Update
** 2019 Property Assessment Notice Update **
Fulton County Homeowners recently received the 2019 Property Tax Assessment Notice, while this is not a bill it is important to read, review and respond by August 2, 2019 to preserve your right and exemptions.
First read the notice completely and make note of the date by which you must respond. Next, verify your new floating homestead exemption which you voted to approve last November in the General Election.
A big "thank you" to the City of Johns Creek for providing an online calculator, you can verify your 2019 homestead exemption using the Johns Creek Homestead Exemption Calculator when you click here.
Note: When asked for the Basic Exemption the amount is $2,000 for the Fulton County Board of Education for most homeowners.
You can find the Fulton County Assessor's Property Search Page here.
You can find the Fulton County Tax Commissioner's Website here.
---
Tuesday, May 14, 2019 9:17 AM
Thanks to Rep. Matthew Gambill and Rep. Mitchell Scoggins for co-sponsoring HB 349, to make modifications to the redevelopment powers act that will further enable cities, counties and boards of education to work together to provide opportunities for citizens to thrive and the economy to grow.
Thanks to Sen. Bruce Thompson for sponsoring the measure in the State Senate and to Governor Brian Kemp for signing it!
Text MARTIN4GA to 22828 to receive our updates.
---
Tuesday, May 14, 2019 9:06 AM
HOPE Eligible Students Get the Time They Need to Complete Degree
As Chairman of House Higher Education was glad to stand with Governor Kemp at Wheeler High School last Friday as he signed a number of bills increasing educational opportunities for Georgians, including HB 218, sponsored by Rep. Rick Williams.
HB 218 first passed out of the House Higher Education Committee and expands the time students are eligible to receive the HOPE Scholarship from 7 to 10 years so more deserving students can complete their degrees, even when life injects a detour.
HB 218 is good for students, good for Georgians, good for Georgia! Way to go Rep. Rick Williams!
---
Wednesday, October 31, 2018 6:50 AM
Working together with Fulton County School Board and gaining the Board's unanimous support our North Fulton Republican Legislative Team passed an assessment freeze which will appear on the General election ballot -- vote "YES" to set you assessment at the lowest amount of the past three years and avoid the increase in future years.