Putting Georgians First
The hardworking men and women of Georgia expect their government to live within its means. As your representative and voice at the Capitol, I am making sure we are balancing our budgets, removing wasteful spending, and looking for ways to make our government work more efficiently.
I am proud of what our state has done and I know we can do more to make Georgia the best place to live, work, and play.
Thank you for allowing me to represent you; I look forward to continuing to work for you and ask for your support on May 22nd and again on November 6th.
News
Tuesday, May 15, 2018 4:00 PM
The Georgia Primary Election is Tuesday, May 22, 2018; this includes the Special Election for Alpharetta Mayor and two City Council Posts.
Early voting ends Friday May 18th; please don't miss your chance to vote.
I would be honored to have your support and ask for your vote, early or on election day!
---
Tuesday, May 8, 2018 6:51 PM
Tax Savings on the Way to the November Ballot!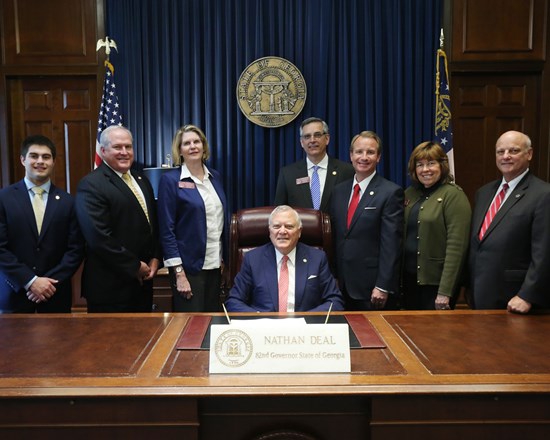 Today Governor Deal signed HB 707, HB 708, HB 709, HB 711, HB 712, and SB 317.
---
Wednesday, March 14, 2018 12:00 AM
Senator John Albers (from right), R - Roswell, Rep. Chuck Martin, R - Alpharetta, House Speaker Pro-Tempore Jan Jones, R - Milton, and Senator Fran Millar, R - Atlanta, at a press conference Tuesday on the final passage of legislation addressing Fulton County tax exemptions. A number of homestead exemptions that passed for North Fulton and the schools will let people improve their homes without losing the lower assessed value.
---
Tuesday, March 13, 2018 12:00 AM
"A priority of mine is protecting taxpaying constituents and
creating and passing these measures protect my constituents from unpredictable and unaffordable property tax bills due to reassessments. Work had been ongoing since last summer and I was pleased and relieved when the bills passed and were sent to the Governor for signature," said Representative Chuck Martin.

---
Monday, January 8, 2018 10:00 AM
Greetings From Your State Capitol


Monday, January 8th, marked the beginning of the 2018 Legislative Session in Atlanta.

Representing House District 49 is a privilege, one I don't take lightly, and I thank you for the